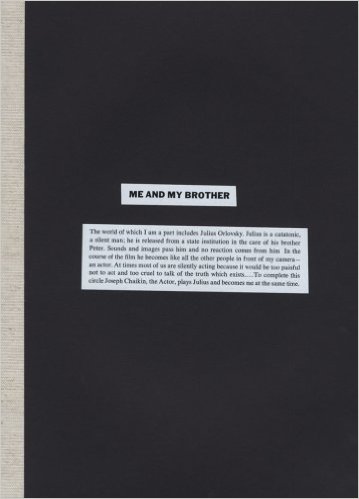 Article Number: 8196
Book with medium,
English
, Thread Stitching, 56 Pages, 2007
Me and My Brother
availability unknown, if interested please write an email
Me and My Brother was Robert Frank's first feature length film, completed and first shown in 1968 at the Venice Film Festival. Everything which had defined Frank's art up to that point turns up in this film – the look at America "from the outside", the poetic libertinage of the Beats, the marginal in a central role.
It celebrates the return of the poetic essay as assemblage, the affirmation of the underground as a wild cinematic analysis in the form of a collage, and skillfully weaves together opposites, plays counterfeits against the authentic, pornography against poetry, acting against being, Beat cynicism against hippie romanticism, monochrome against colored. The story contains bizarre twists and turns, and appears to be a rather artless-film-within-a-film being shown at a rundown movie theater. This previously unpublished book includes stills and dialogue from Me and My Brother, together with a DVD of the re-edited 85 minute film.
Language: English