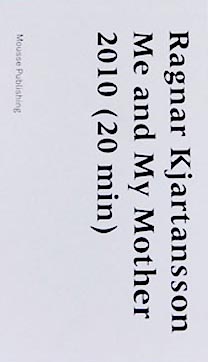 Article Number: 8295
Soft Cover,
English
, Glue Binding, 2010
Me and My Mother
2000 (10 min), 2005 (4 min), 2010 (20 min)
availability unknown, if interested please write an email
Me and My Mother is a flip-book created in conjunction with the eponymous Ragnar Kartansson exhibition at EX3 Contemporary Art Center in Florence.
The book recreates the three videos in the project, dividing them into a sequence of images that gradually change from one page to the next, to highlight three main elements in the work: the maternal figure, an apparently scornful action, and chronological spacing that underscores the inexorable flow of time. With texts by Lorrenzo Giusti, Arabella Natalini and Markus Thor Andresson.
Language: English, Italian