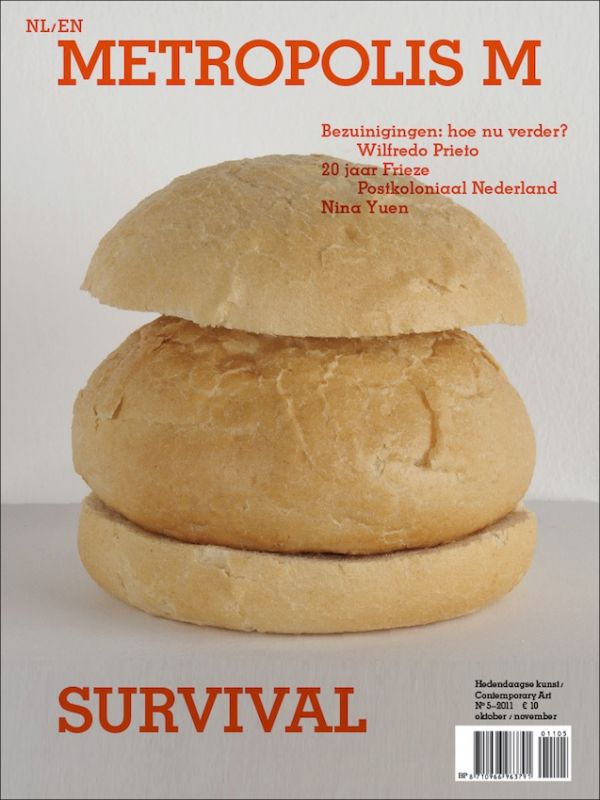 Article Number: 4483
Magazine,
Dutch
, Glue Binding, 120 Pages, 2011
Metropolis M: Survival
Contemporary Art (#5-2011)
€ 12.00
October/November edition of Metropolis M, magazine for contemporary art. (Dutch/English)
Contents:
SPECIAL: SURVIVAL
How can we respond to the massive budget cuts to the cultural sector in the Netherlands?
Frieze is 20 - Interview with Matthew Slotover
Markus Miessen on 'crossbench praxis'
FEATURES
The work of the Cuban artist Wilfredo Prieto
Postcolonialism in the Netherlands
Art and science are intermingling - Kianoosh Motallebi, Maarten Vanden Eynde and Edith Dekyndt
Sven Augustijnen's newest film 'Spectres'
Chus Martínez on the Documenta 13 publication series 100 Notes - 100 Thoughts
And Tirdad Zolghadr is Metropolis M's newest regular columnist
Further (Dutch only):
Nina Yuen's first museum solo show; Vincent Vulsma's conceptual vandalism; a typography of speed; the young artists Michiel Ceulers and Magdalena Pilko; self-help books on sponsoring art; reviews from Amsterdam, Frankfurt, Middelburg, and more.
(Source: Metropolis M Homepage)