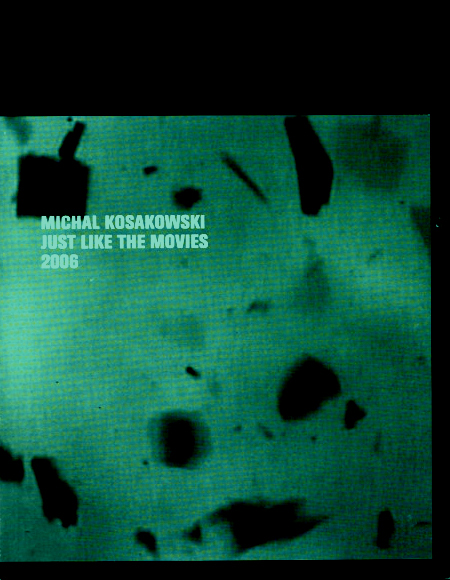 Article Number: 6281
Soft Cover,
German
, Glue Binding, 56 Pages, 2006
Michal Kosakowski. Just like the Movies. 2006
availability unknown, if interested please write an email
Anlässlich der Welturaufführung von Michal Kosakowkis "Just Like the Movies" in der Städtischen Kunsthalle München erscheint diese Publikation in Deutsch und Englisch, in der Bildcollagen von "Just Like the Movies" Texten von Goran Mimica und Joseph Denize gegenüber gestellt werden.
Anhand von Bildern aus 52 verschiedenen Hollywoodfilmen rekonstruierte der polnische Filmemacher Michal Kosakowski das Ereignis 9/11 in einer 21-minütigen Montage. Der thematische und konzeptionelle Anknüpfungspunkt für JUST LIKE THE MOVIES ist ein Déjà-Vu-Erlebnis. Die Bilder, die nach dem 11. September um die Welt gingen, wirkten angesichts der nicht fassbaren Szenarien nahezu unwirklich und erinnerten an Sequenzen aus Katastrophenfilmen.
Kosakowski verwendet diese Filme als Material um den Tag des Geschehens nachzuerzählen. Beginnend mit der Morgendämmerung über Manhattan steigert sich die Dramaturgie der Ereignisse bis hin zur Schilderung der Katastrophe. Hier kehrt sich das Déjà-Vu-Erlebnis des 11. Septembers 2001 um: die Filmbilder von Flugzeugen, die sich der Skyline New Yorks nähern, beunruhigt aufschauenden Passanten und fallenden Körpern rufen die realen Ereignisse wieder wach.
In Tradition der musikalischen Stummfilmbegleitung unterlegte Paolo Marzocchi das Video mit einer Komposition für Soloklavier mit elektroakustischen Klängen. Die nackten Ragtime-Klänge stehen im Kontrast zu den Bildern der Zerstörung und verstärken auf diese Weise die unheilvolle Atmosphäre des Videos.


Sprache: Deutsch/Englisch