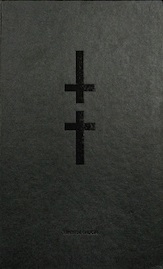 Article Number: 6718
Hard Cover,
German
, Thread Stiching, 352 Pages, 2010
Misa Negra
This pièce de résistance concludes the project "Obey, Humillados & Ofendidos" . The Book includes a compilation of essays, photographic documentation, scripts and author's annotations..
Togehter constituting the only instrument that makes visible in its entirety the performative act without an audience "Three Dead End Adjacent Tunnels, Not Connected. 24h".
Authors: Antonin Artaud, Georges Bataille, Samuel Beckett, Étienne de La Boétie, Yolanda Castaño, Gilles Deleuze, Fyodor Dostoyevsky, Baltasar Gracián, R. W. Fassbinder, Michel Foucault, Pierre Klossowski, Pier Paolo Pasolini, Susan Philipsz, Leopold von Sacher-Masoch, Marcus Steinweg, Manel Clot, Joan Morey, Esther Planas, Marcus Steinweg, Van der F., Naoj Yerom
The content combines different languages without translation to embody an expanded concept of art that consists in the transformation of the spectator's consciousness as a means of activating reality and thought.
Languages: Galician, Spanish, Catalonian, English, German