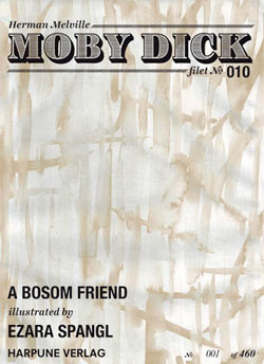 Moby Dick filet No.10
A Bossom Friend
€ 12.00
Beginning autumn 2011, Harpune Verlag Vienna will publish Herman Melville's masterpiece about the Great White Whale and his relentless pursuer Captain Ahab as a serial in 137 chapters.
To do justice to the book's many voices, each chapter will be illustrated by a different artist and each limited edition issue of 460 copies will be published in non-chronological order at the rate of one chapter per month.
Forty copies will be published in a special edition produced in collaboration with the artist.