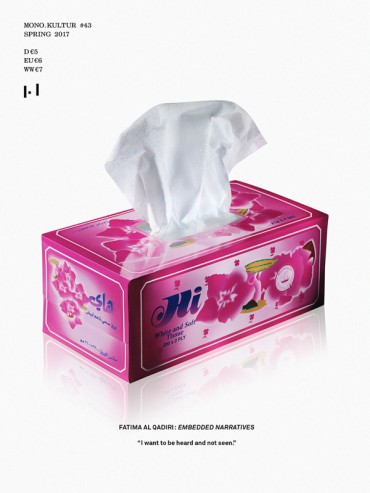 Article Number: 10262
Soft Cover,
English
, Staple Binding, 40 Pages, 2017
mono.kultur #43
€ 10.00
Bending and fusing different genres of music, Al Qadiri has released a handful of largely instrumental albums that often imply narratives wrapped in a dystopian atmosphere, evoking an uncanny imagery of our increasingly oversaturated and disorienting information age. It is a simple yet complicated sound that owes as much to electronic music and video game soundtracks as it does to Russian composers and Arab musical traditions.
It is music that draws not only from an eclectic range of contrasting influences, but from a layered personal background: Born in Senegal, Fatima Al Qadiri grew up in Kuwait, but was exposed to electronic music and club culture during frequent stays in London and studies in the USA. It is in New York where she soon established her own place within the art and music scenes, as comfortable producing music in her own name as she is conceiving art installations as a member of the artist collective GCC or providing sound to the fashion shows of labels such as Telfar and Hood by Air.
Language: English