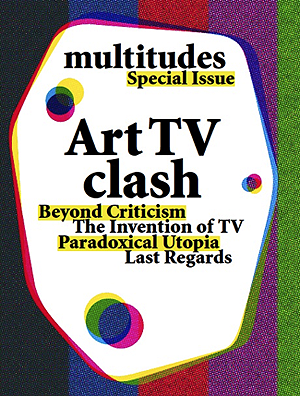 Article Number: 9663
Soft Cover,
French
, Thread Stitching, 240 Pages, 2010
Multitudes special Issue. Art TV clash
Beyond Criticism. L'invention de la TV. Eine paradoxale Utopie. Last regards.
availability unknown, if interested please write an email
This special issue is experimental, and could be considered as a first attempt to produce a format for Multitudes Transnational.
Three French and German art venues (the Centre National de l'Édition et de l'Art Imprimé [cneai =] in Chatou, the Halle für Kunst Lüneburg, and the Kunstverein Harburger Bahnhof in Hamburg) have joined Multitudes to take a look at the relevance of television as an art form and the tenacity of the TV medium in the digital world. The results are many and varied: the production of a full day worth of TV programs by 28 artists and collectives, the presentation of three exhibitions, one per venue (Channel TV and Mire 2010, psychologie de la forme by Jean-Marc Chapoulie at Chatou, Negative Headroom: The Broadcast Signal Intrustion Incident by Simon Denny at Lüneburg, and Insert – never the same colour by Katrin Mayer, Eske Schlüters and Heiko Karn in Hamburg), and the publication of the special Art TV Clash issue of Multitudes.7
Language: English, French, German.