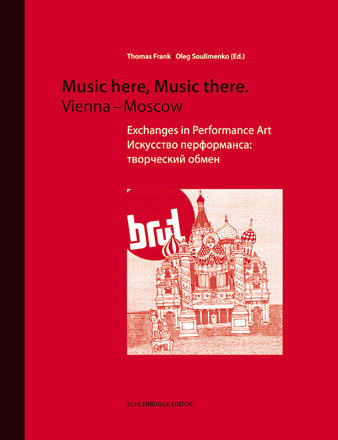 Music here, Music there. Vienna - Moscow
Exchanges in Performance
€ 12.00
The publication reflects on the exchange of the artists Andrei Andrianov & Amanda Pina, Olga Dukhovnaja & Robert Steijn, Natalia Pershina-Yakimanskaya (aka Gluklya), & Thomas Kasebacher, Philipp Grigoryan & Jeannie Mayr, Maxim Ilyukhin & Michikazu Matsune, Andrey Smirnov & Anne Juren, Patrick K.-H. & Burkhard Stangl, Andrey Kuzkin & Billy Roisz and Alexandra Poldi & Markus Schinwald which took place in November/December 2010 at co-production house brut in Vienna.
The artists worked for ten days as duo teams on site-specific performance projects which were presented in a two-day programme all over the brut venue in Vienna's Künstlerhaus.

The exchange is based on the idea of collaborative practice amongst artists as a possibility to develop new strategies of artistic production, to get inspired by the unknown other and to work on cultural differences.