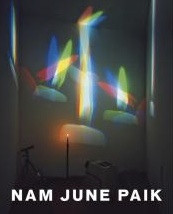 NAM JUNE PAIK
availability unknown, if interested please write an email
Nam June Paik (1932-2006) was one of the most innovative artists of the twentieth century, whose influence is still felt in music, the visual arts, film and video.
Born in South Korea, Paik began his career as a composer in Japan and in Germany, where he met Karlheinz Stockhausen and John Cage and collaborated with Joseph Beuys. Moving to New York in 1964, he formed relationships with a number of artists associated with the Fluxus group, particularly the cellist Charlotte Moorman who became one of his closest collaborators. He continued to experiment in performance and video art, using manipulated televisions as elements in sculptural works, creating robot sculptures and installations.

An international range of contributors trace the course of Paik's life and career, exploring his connections with key figures in the twentieth-century avant-garde, his theoretical writings and his lasting influence. Extensively illustrated, with extracts from interviews and reminiscences from many who were close to Paik during his lifetime, this will be the most thorough and illuminating exploration of Paik's legacy yet published.

Sook-Kyung Lee is Exhibitions & Displays Curator at Tate Liverpool.

Susanne Rennert is Curator at Kunst Palast, Düsseldorf.

Contributors: Dieter Daniels, Chrissie Iles, Young Chul Lee, Susanne Neuberger, Susanne Rennert, Joan Rothfuss, Jochen Saueracker, Stephan von Wiese and David Zerbib.