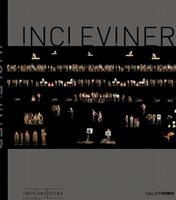 !nc! Ev!ner
€ 47.00
This is the first major monograph on the intriguing artist İnci Eviner. Eviner has always maintained her unique artistic stance in the practice of contemporary art both in Turkey and beyond. Her practice embraces drawing, objects and video (Quelle: Verlag). (Engl./Türk.)
Prolific, varied and deliberately unclassifiable, Eviner combines the conscious with the unconscious, the psychic with the public, the already-represented with the not-yet-represented. Her works suspend the established deeds of the legalistic or patriarchal society; they drive the established order towards a breaking point, exploring the possibilities of new forms of existence.

The individual's struggle for freedom from the patterns of representational systems, from history, from space, ideology, culture and identity as they restrain the subjectivity of humans and in particular of women, has been a problem for Eviner's practice for over twenty years. Eviner has always searched for possibilities of resistance by putting the irrational thought and the unconscious up against the rational one that defines all kinds of power.
The publication focuses on all the phases of the artist's prolific career of over 20 years. Published in English and Turkish the book includes a comprehensive interview by the editor of the book Nazlı Gürlek with the artist; and an essay by London-based curator and writer Isobel Harbison on Eviner's Broken Manifestos, Parliament, New Citizen, Nowhere-Body-Here and Unheimlich. It is designed by Onur Bayiç, published by Galeri Nev Istanbul and distributed by Revolver (...).