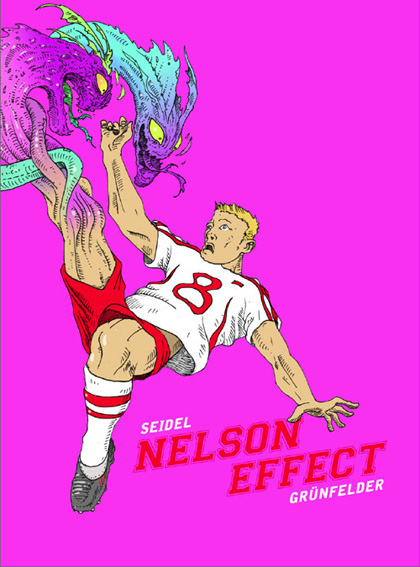 Nelson Effect
€ 12.50
The picture story Nelson Effect was conceived by Romeo Grünfelder and drawn by Timur Seidel. It is both, a comic and a sophisticated story-board for a short film that has yet to be realised (working title: Planspiel / Operational Game) about the contradiction between para-science and classical science.
In Nelson Effect, Grünfelder describes a psycho-physical experiment by the scientist Granizio, which is to measure and predict the effects of the united emotions during a soccer game in Cologne stadium. The results, however, do not correspond with the scientist's expectations, and he thus has a halucinatory and orgiastic encounter with Maxwell's Demon, who is often conjured in the context of scientifically unexplainable phenomena. Yet, the visual deconstruction of space and time in these scenes can also be read as a direct result of the experiment.
The film maker and artist Romeo Grünfelder (*1968) studied music and visual communication in Hamburg. He recently had a residency at Villa Aurora in Pacific Palisades and in 2008 received the scholarship of the City of Hamburg. He lives and works in Hamburg.
language: english