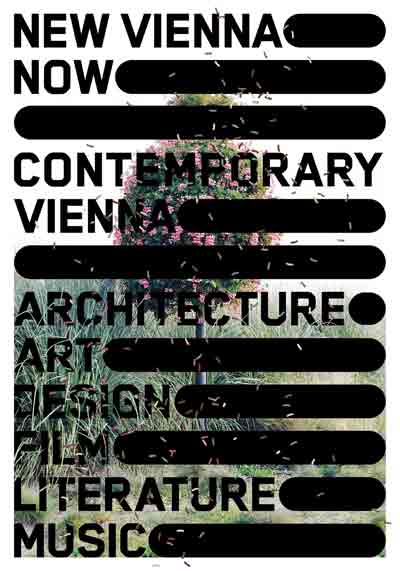 New Vienna Now
Contemporary vienna architecture, art, design, film, literature, music
€ 38.00
Für Leser, die eine Reise nach Wien planen oder mehr über professionelle Partner, Ausbildungsorte, Kontakte, die Szene und die Brands erfahren wollen.
A new guide through contemporary Vienna, designed by highly acclaimed book designer Stefan Sagmeister, Austrian graphic artist based in New York. Seventeen chapters covering architecture, design, fashion, art, restaurant and shop design, magazines, games, music, film, dance, and performance: people, names, works, and labels. The book is equally suitable for day trippers to prepare or accompany their visit and specialists in search of background information. Info boxes for each chapter with names, addresses, and websites
Ein Führer durch das aktive, produktive, höchst dynamische Wien der Gegenwart. Gestaltet von dem aus Österreich stammenden, international renommierten Grafik-Designer Stefan Sagmeister, lädt er ein, die europäische Metropole neu zu entdecken. In 17 Kapiteln werden Architektur und Mode, Film, Design, Bildende Kunst, Musikschaffende, Labels, Games, Performance, Shops und Magazine vorgestellt. Die Texte stammen von kompetenten und auf ihren Terrains prominenten Autoren. Sie bieten informationsreiche, Hintergründe ausleuchtende Einführungen in die "kreativen Szenen" der Stadt. Der Band ist aufwendig illustriert und wird durch ein umfangreiches Verzeichnis nützlicher Adressen und Websites ergänzt wird.
With texts by / Mit Texten von Erwin K. Bauer, Tulga Beyerle, Michael Freund, Sven Gächter, Michael Hausenblas, Alexander Horwath, Manisha Jothady, Franziska Leeb, Martin Mühl, Rainer Nowak, Gerhard Ruiss, Nicole Scheyerer, Dietmar Steiner, Christoph Thun-Hohenstein, Sabine B. Vogel, Brigitte R. Winkler, Tomas Zierhofer-Kin. Artistic contributions by / Künstlerische Beiträge von Victoria Coeln, Martin Guttmann, Hertha Hurnaus, Sigrid Kurz, Rita Nowak, Eva Schlegel, Margherita Spiluttini, Andrea Witzmann.