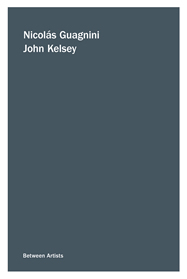 Nicolás Guagnini / John Kelsey
Between Artists
availability unknown, if interested please write an email
The work of Nicolás Guagnini and John Kelsey manifests itself in distinctly different forms, yet the two share an affinity for playing with the roles and structures of the art world. The conversation includes discussions of some of their recurring topics and themes: gossip, the jeune-fille, institutional critique, the abject, humor and their participation in collaborative ventures.
Between Artists is a series of conversation based books that document different positions and strategies of contemporary, critical visual practice. These conversations provide an opportunity for artists to speak clearly about their practice and give readers a better understanding of the power and relevance of the artists' voice in the discussion of larger social issues.
Art Resources Transfer Inc. is a nonprofit organization dedicated to establishing a more egalitarian access to the arts through publishing (A.R.T. Press) and the free distribution of contemporary art books to public libraries and schools in underserved communities nationwide (D.U.C. Program).