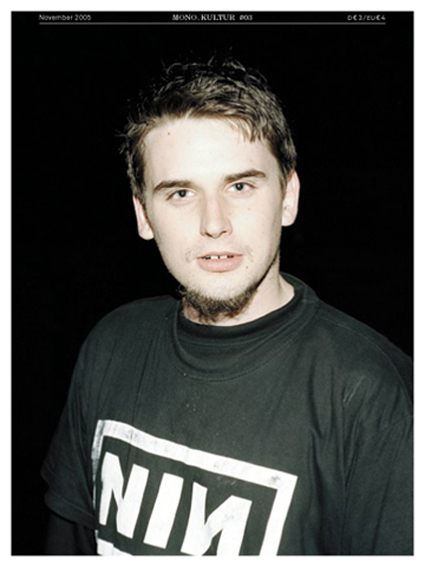 mono.kultur #3: Nine Inch Nails
The Way Out is Through
availability unknown, if interested please write an email
mono.kultur is an interview magazine in full length and depth, extensive and unfiltered. One interview per issue. Quarterly. #3 features Trent Reznor of Nine Inch Nails Interview by Michael Tschernek Photography by Dominik Gigler Design by Kai von Rabenau
Nine Inch Nails' Trent Reznor appeared out of Nowhere, USA, with his debut album, Pretty Hate Machine, in 1989. His tortured disco pop should prove a favourite on the college radio circuit but it was more the relentless energy of his live performances that quickly caught attention. Touring the country incessantly as an opening act, the headlining band would be virtually forgotten by the time Nine Inch Nails left the stage, leaving behind a trail of broken instruments.
Instilling the energy of his live act into the studio recordings, Reznor's music took a turn toward the heavy side culminating in his masterpiece' The Downward Spiral, an unusually difficult and complex album to enter the U.S. charts at number two – going largely unnoticed in Europe, Reznor had achieved superstardom in America. Banned videos and minor scandals, such as recording in the house Sharon Tate was murdered in, kept Nine Inch Nails in the press, as did the support of and following public fallout with Marilyn Manson.
Manson might have turned into the bigger star but Reznor clearly touched a nerve with a vast fan base in the U.S. that idolised him as figurehead for an alienated youth. Recorded material came sparsely over the next ten years while Reznor toured himself into exhaustion and near self-destruction, succumbing to severe drug and alcohol addictions. Disappearing for several years to overcome his affliction, he returned in 2005 with a new album and as a cleaner and more dignified self, talking openly about the dark side of pop stardom.
Regardless of whether one appreciates Nine Inch Nails' theatricality and blend of heavy industrial music with electronic elements and a good sense for pop melodies, it is undeniable that in a mainstream context, Reznor is by far the most experimental and interesting musically, in an otherwise rather dull genre which he himself helped to firmly establish in the charts. More importantly though, he has succeeded in maintaining a degree of credibility and honesty that is highly unusual on his level of popularity, leaving the sympathetic impression of a vulnerable human being rather than a distant star figure.