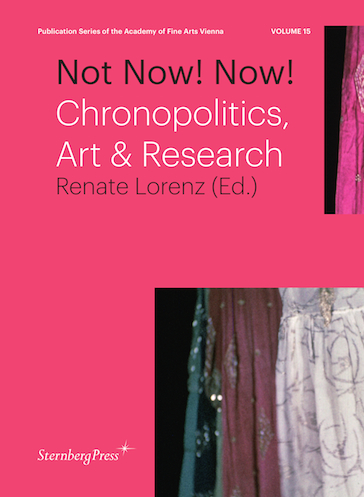 Article Number: 7331
Soft Cover,
English
, Thread Stitching, 188 Pages, 2014
Not Now! Now! Chronopolitics, Art & Research
availability unknown, if interested please write an email
Not Now! Now! engages with the politics of time in art: historical narratives and memory, the unforeseen rhythms of time, and the challenge of visualizing time.
The book connects the postcolonial and queer debate around chronopolitics with artistic strategies that introduce breaks, stutter time, use citations and anachronisms, and introduce deferrals and collapses between time and meaning.
They thus challenge orderly and rigid temporal concepts and their effects on bodies and the social. Contributions by art theorists, artists, and artistic researchers highlight how temporal norms organize our biographies and intimate relations, as well as the handling of capital or the continuation of colonial relations. The book instead suggests to focus on a particular non/moment in time: the not-now/now. It indicates a possible break in the temporal order, a meaningful gap between "not now!" and "now!" Or: the past and the future ("not now!") uncannily but promisingly showing up "now!"
Language: English