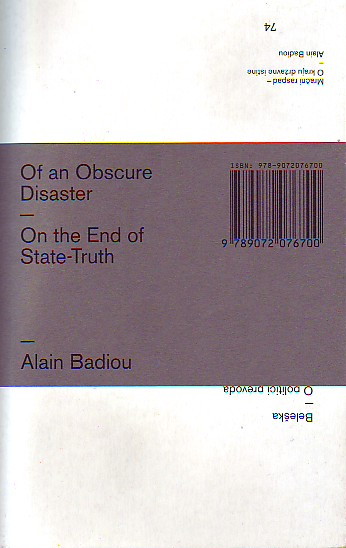 Of an obscure disaster
on the end of the state-thruth
€ 14.00
Of an obscure disaster / Mracni raspad, realised by former Theory researcher Ozren Pupovac and co-published by Jan van Eyck Academie and Bastard Editions, is the Serbo-Croatian/English translation of an essay by Alain Badiou.
The essay, with the original title D'un désastre obscur: sur la fin de la vérité d'Etat, has never been entirely published in English or translated into any other language than the English one. For Pupovac, the importance of this translation is in the political relevance of Badiou's text. With 'existing socialisms' in ruins, philosophy falters in its attempt to face politics. The year 1989 laid bare not simply the weaknesses of the attempt to construct an alternative to capitalism, via the state ownership of the means of production and centralised economic planning, but also exposed the frailty of the very link between philosophy and politics embodied in the doctrine of Marxism-Leninism. Alain Badiou, however, felt that this should not be seen as a sign of despair and retreat, but rather as something to rejoice at.
Of an obscure disaster / Mracni raspad
illuminates the political aspects of Badiou's philosophy and, at the same time, closes the gap between philosophy and politics in Badiou's work. The Serbo-Croation translation makes the essay accessible to this formerly socialistic state for the first time. The foreword of the translation, by Alain Badiou himself, focuses on the post-socialistic context of the country. The design of the book is done by former Design researcher Katja Gretzinger; translations are by Ozren Pupovac and Ivana Momčilović.