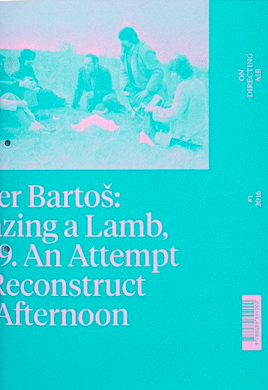 Article Number: 10272
Magazine,
English
, Staple Binding, 56 Pages, 2016
On Directing Air 1
Peter Bartoš: Grazing Of The Lamb. An Attempt To Reconstruct An Afternoon
€ 16.50
On Directing Air 1 is an approach to and an attempt to reconstruct the photo "An Afternoon Grazing a Lamb." Petra Feriancova talks to different artists about it. The interviews are printed in "On Directing Air 1".
Petra Feriancova works with the intention of post-production. The key moment of her work is the conceptualisation of her own emotional reactions to the processes of perception and memory, as well as an examination of the conditions under which they are shared. She works mostly with already made images, texts and archives, which she then interprets and methodically interchanges. The main aim of manipulating a reference - pictorial or discursive - is to provide the spectator with the original affective reaction to it. Language: English