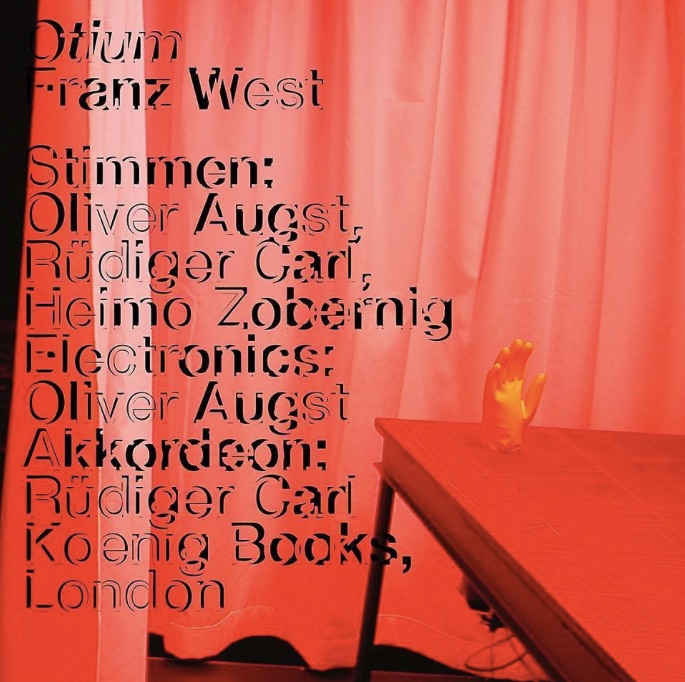 Article Number: 11642
Soft Cover,
German
, 44 Pages, 2018
Otium
€ 46.30
"Otium" ist eine klangliche und gestalterische Hommage an das gleichnamige Künstlerbuch von Franz West, erschienen 1995 anlässlich der Frankfurter Buchmesse (auf Anregung von Kasper König).
Diese einzigartige Sammlung aus Gedankensplittern und Textfragmenten, die in ihrer formalen Gestaltung bildnerisch-kompositorische Elemente sowie Einschübe von liedhafter Poesie (Gedichte) verbindet, diente dem Sänger und Komponisten Oliver Augst als Ausgangmaterial für die Vertonung dieses idiosynkratrischen Schriftwerks. Unter Mitwirkung des Musikers Rüdiger Carl und des bildenden Künstlers Heimo Zobernig entstand ein Hörspiel, das Wests Verfahrensweise der visuellen Collagetechnik aufgreift und ein Pendant in Klang entwickelt. Auch die von Heimo Zobernig konzipierte Publikation - die neben der Schallplatte mit dem Hörspiel auch ein Faksimile des Originaltextes sowie ein Booklet mit einem Text von Benedikt Ledebur beinhaltet - bedient sich Sprache als Basis künstlerischer Ausdrucksform. ***** "Otium" is a homage, in sound and design, to the artist's book of the same name by Franz West, which was published in 1995 on the occasion of the Frankfurt Book Fair (on the suggestion of Kasper König). This unique collection of thought and text fragments, which connect, in their formal design, pictorial-compositional elements as well as song-like poetry, served as the raw material for singer and composer Oliver Augst to set this idiosyncratic piece of written work to music. An audio play was create, in collaboration with the musician Rüdiger Carl and the visual artist Heimo Zobernig, that picks up West's visual collaging technique and develops a counterpart in sound. The publication, designed by Heimo Zobernig-which also includes a facsimile of the original text, presented in English for the first time, as well as a booklet with a text by Benedikt Ledebur alongside the vinyl record-also employs language as the fundamental form of artistic expression.
Sprache: Deutsch und Englisch