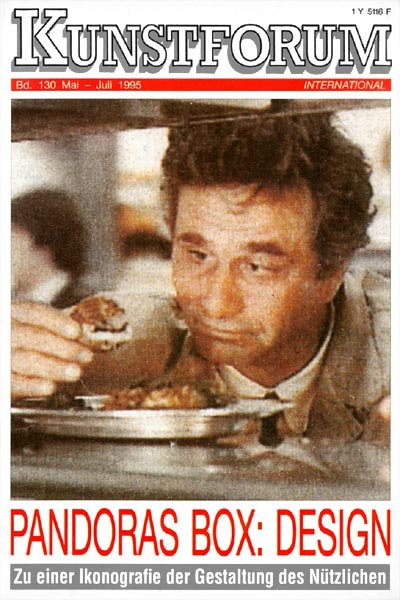 Article Number: 10421
Soft Cover,
German
, Glue Binding, 496 Pages, 1995
Pandoras Box: Design. Malerei 1
Zu einer Ikonographie der Gestaltung des Nützlichen; Kunstforum International #130
availability unknown, if interested please write an email
Design ist Kult. Lange Zeit eine Geschmackssache für Insider, hat sich das Geschäft mit der gestalteten Objektwelt in den letzten Jahren immer weiter an den Handel mit Kunst angenähert.
Verkauft werden derlei Produkte nämlich nicht mehr nur in einschlägigen Möbelhäusern und Spezialgeschäften, sondern vermehrt auch in "Galerien", womit der Kunststatus dieser Objekte unterstrichen werden soll. Doch nicht nur dieser Trend ist für KUNSTFORUM Anlass, der "Ikonographie der Gestaltung des Nützlichen" einmal tief schürfend auf den Grund zu gehen. In seinem materialreichen Einleitungsessay hat Hermann Sturm die abendländische Geschichte der Gestaltung des Nützlichen aufgearbeitet - angefangen vom antiken Mythos der Pandora, der die "AIDA"-Regel der Werbeleute (to capture attention, to maintain interest, to create desire and to get action) bereits auf's Trefflichste vermittelt. "Was? Wie? Wozu? Von Wem? Für Wen? Wann? Wo?" lautet der Fragenkatalog an die Dingwelt, den Sturm systematisch ergründet. Dabei springt er unerschrocken und seine Materie souverän beherrschend vom antiken Relief zu Jeff Koons, vom mittelalterlichen Armreliquiar zum Braun-Rasierer, von Cellinis Saliera zum Hundertwasser-Kunstobjekt in Uhrform. An einem simplen Alltagsgerät, dem Toaster, führt Sturm schließlich exemplarisch vor, wie Designobjekte Teil eines komplexen Zusammenhangs sind.
Malerei: Folge I
Von Heinz-Norbert Jocks
Seit Jahren steht die Malerei in dem Ruf, am Ende zu sein, während im Gegenzug ihre Vitalität mit eben dergleichen Energie behauptet wird. Diese widersprüchliche Situation ist Anlass für eine auf zwei Bände angelegte Untersuchung, die Heinz-Norbert Jocks mit Betrachtungen aktueller Landschaftsmalerei beginnt. In seinem einleitenden Essay widmet sich der Herausgeber ausführlich der Landschaftsmalerei von Edward Hopper und analysiert dann das malerische Werk von Norbert Tadeusz, Jan Schüler, Bernhard Lokai, Michael Bach, Hans-Jörg Holubitschka, Karin Kneffel, und Andreas Schön. Siehe auch "Malerei – z.B. Landschaft" (Band 70, 1984) sowie den Folgeband 131 (1995) "Ende der Malerei und Malerei nach dem Ende der Malerei".
Sprache: Deutsch