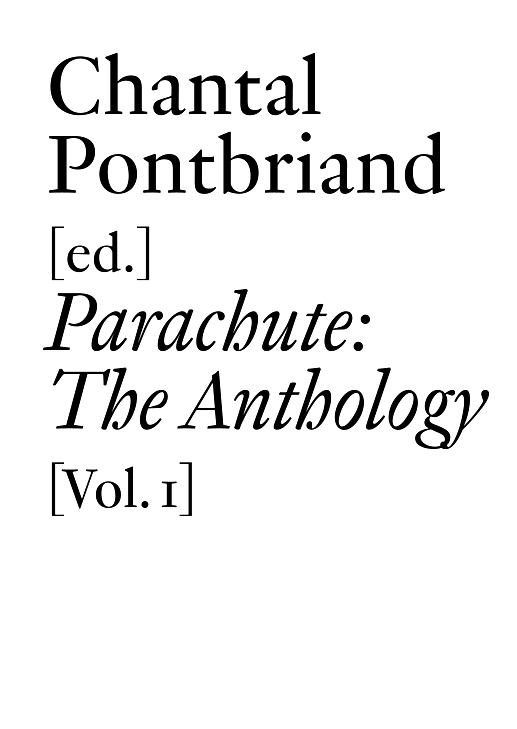 Article Number: 8393
Soft Cover,
English
, Thread Stitching, 222 Pages, 2012
Parachute: The Anthology
Vol. 1
availability unknown, if interested please write an email
Parachute: The Anthology (1975-2000) adresses the state and function of art history, criticism, and theory in their own particular moment. Chantal Pontbriand co-founded Parachute in 1975 and edited its 125 issues until 2007.
In 1975, a small group of enterprising, discontented members of the international art community in Montreal posed the following question: "What do we know of contemporary art outside of Quebec, in Canada or abroad? Do we even know what contemporary art exists in Montreal? How does information about art circulate?" By way of an answer, the artistically unconventional and theoretically cutting-edge magazine "Parachute" was launched, founded by Chantal Pontbriand and France Morin. Artists such as Jeff Wall, Bill Viola, Stan Douglas, Eija-Liisa Ahtila, and many others, had the first significant critical reception of their work in "Parachute." Similarly, figures such as Douglas Crimp, Thomas Crow, Thierry de Duve, Georges Didi-Huberman, Hal Foster, Reesa Greenberg, Serge Guilbaut, and Laura Mulvey, all of whom have helped define the parameters of art history, theory, and practice, published rigorous, highly pertinent essays in the journal early on in their careers.
Authors: Alexander Alberro, Bruce Alistair Barber, Thomas Crow, Hal Foster, Reesa Greenberg, Serge Guilbaut,
Hans Haacke, Jean-François Lyotard, Jean Papineau, René Payant
Language: English