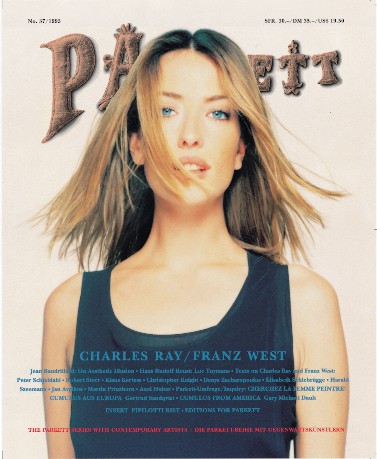 Article Number: 9120
Soft Cover,
German
, Glue Binding, 228 Pages, 1993
Parkett No. 37 / 1993
Ray, West
availability unknown, if interested please write an email
The thirty-seventh issue of Parkett gives cause for celebration: With Charles Ray and Franz West, fifty artists have taken up the challenge of committing themselves to a collaboration with our magazine.
A perfect opportunity to thank them—and all of our contributors—for turning Parkett into one of the most important assets to the world of contemporary art. In founding Parkett almost ten years ago, we were motivated by the wish to communicate art "hands-on" and to cultivate intense vitality with equally intense deliberation. Thus, the first five years saw one collaboration artist per issue, with subsequent issues enhanced by the dynamics inherent in juxtaposing two collaboration artists.
The essence of what we mean by collaborations is best expressed when artists explore and exploit the medium of our publication as a genre that is neither an exhibition catalogue nor an artist's book. The present issue is extremely rich in such references. Charles Ray turned to the fashion magazine as the point of departure for his design of our cover, only to subvert the technology of glamour in his snapshot photo-edition of supermodel Tatjana Patitz, thus effectively tripping up any tendency to compartmentalize. In addition, he has written his own captions and designed the table of contents. Franz West explicitly requested "numerous but short texts" for the issue, and it was his wish to have us reproduce the photograph with Charles Ray in Venice. West has created a concrete container for a spiritual container in his special edition of a "Pouch for This Issue of Parkett". Tailored from Africa cotton, West's tote bag also makes a cryptic commentary on the Euro-American centrism of Parkett.Looking back over fifty collaborations, we take pride and pleasure in discovering that they have emerged as a veritable Musée en Appartement, a quintessential image of a period via a periodical. Language: English/German