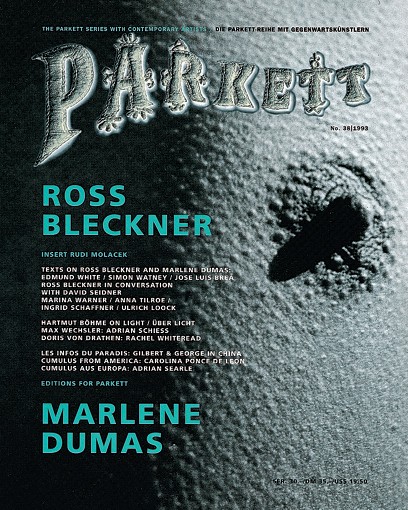 Article Number: 9116
Soft Cover,
German
, Glue Binding, 169 Pages, 1993
Parkett No. 38 / 1993
Bleckner, Dumas
availability unknown, if interested please write an email
As painters, Ross Bleckner and Marlene Dumas share a concentration on lightness and darkness in their quest for the essence of light.
Their semantic spectrum ranges from the color of the skin to metaphysical implications. People are central to the oeuvres of both artists: They figure concretely in the paintings of Marlene Dumas, while in Ross Bleekner's works, they acquire a presence of great urgency through the very fact of their absence. An acutely heightened perception of reality serves as the point of departure for both artists, resulting in painting that is a network of relations between motif and material. Moreover, they both draw on the medium of photography: Marlene Dumas paints from photographs, while Ross Bleckner's black-and-white photographs were taken especially for this issue of Parkett. In the photographic Insert, Rudi Molacek has sought out the eye of the animal to record the relationship established at the moment of contact. In the impression of a calendar, the photographs serve as visual mottos for past and future months.

Language: English/German