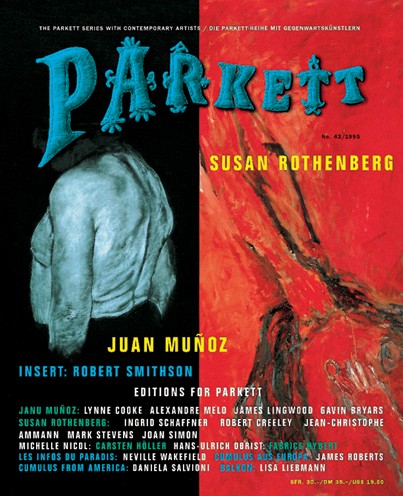 Article Number: 9189
Soft Cover,
German
, Glue Binding, 260 Pages, 1995
Parkett No. 43 / 1995
Rothenberg, Munoz
availability unknown, if interested please write an email
The "demand for anthropological re-formulation"—de¬scribed by Michelle Nicol in her essay on Carsten Höller as an important feature of the nineties—also surfaces in Robert Smithson's slide presentation on HOTEL PALENQUE, given over twenty years ago.
For the astonished architecture students at the University of Utah, Smithson documents nothing short of a different view of the world. His slide lecture is published here as our Insert for the first time in its entirety. The impulse underlying Smithsons's suggestion to read unexpected places and ob¬jects as a rich source of energy may be compared to Fabrice Hybert's idea of transporting a truck-sized cake of soap from supermarket to supermarket and calling it TRADUCTION (Translation). This is perception with a new focus: Smithson invests a dilapidated hotel with the aura of ancient Mayan architecture, Hybert swims upstream in psycho-economic currents, and Carsten Höller analyzes the social, biological, and physiological processes of the human condition in the form, for instance, of self-strangulating flowers.
The Collaboration artists also weave nets of subtly far-sighted cultural perceptions around their viewers. In her conversation with Joan Simon, Susan Rothenberg humorously defines the principle currently directing her art as "walking and working." The resulting energy flows, unbridled, in and out of her painting, and is linked by Mark Stevens in his essay "Essential Hesitations" to such contrasting phenomena as cave painting, Alberto Giacometti, and Philip Guston. For Juan Muñoz, anonymity is a spring of scenic images in which the viewers become participants in the action. They are drawn into mental spaces that branch out into undreamed-of regions. Juan Muñoz has created an object for the read¬ers of PARKETT, a piece of glass on which one has to breath to make a drawing appear for a few seconds. And Susan Rothenberg has come up with a startling bear skin—not a painted one, but a miniature latex imitation. Language: English/German