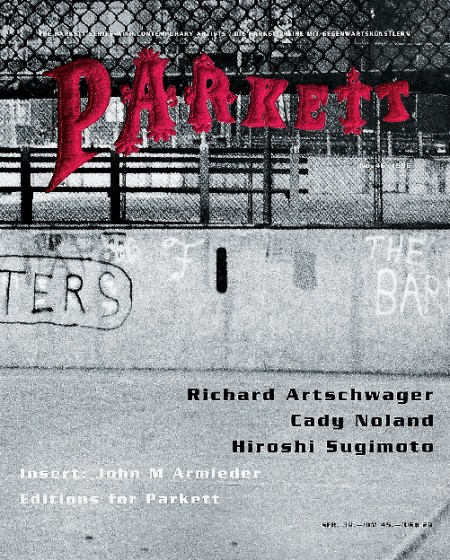 Article Number: 9097
Soft Cover,
German
, Thread Stitching, 268 Pages, 1996
Parkett No. 46 / 1996
Artschwager, Noland, Sugimoto
availability unknown, if interested please write an email
Rigor of Form Six years ago Parkett published an issue featuring a collaboration with Richard Artschwager (No. 23, March 1990). At the time, rather than having essays commissioned on his work, the artist suggested asking authors from beyond the field of art to write on the subject of "Art and Reason."
We have invited Richard Artschwager to do a second collaboration with us, wishing to pursue the reflection on his oeuvre and to see its topicality explored in the proximity of two younger, very different artists.
All three artists—Richard Artschwager, Cady Noland, Hiroshi Sugimoto—display a conspic-uously striking rigor of form, not as the familiar self-celebration of formalist provenance but rather as a pragmatic faith in the potential of form. While the rigor of the formalists unfolded through increased elision of the world, an opposite will is felt among these artists: Their extreme control of form feeds into the desire to involve as much of the world as possible. In the use of black and white, which plays a role in all three oeuvres, we recognize the meth¬od of abstraction, detachment, and reduction. Black and white may also signify crassness; morally it is the equivalent of good and evil. Comparison of the collaboration artists and their cultural embeddedness has been addressed by David Deitcher.
The art of Erwin Wurm and John Armleder's INSERT present the emergence of an entirely different, explicitly playful treatment of form, which is perhaps a distinctly European element. A third, radical means of mastering form strikes the eye in the work of Emma Kunz (1892-1963), whose drawing is reproduced on the spine of this and the next two volumes of Parkett. Patient observation of the movements that a pendulum circumscribed over a sheet of paper led to her breathtaking compositions. An essay in the next issue of Parkett will introduce this extraordinary artist in greater detail.
Language: Englsih/German