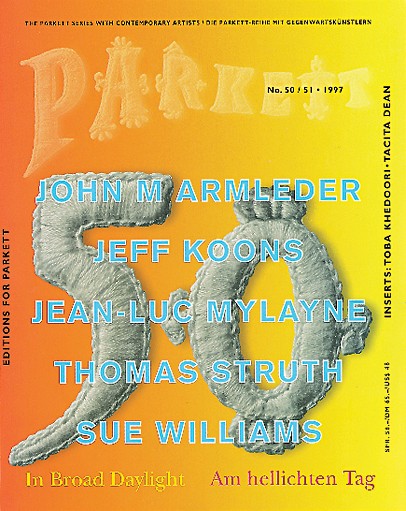 Article Number: 9115
Soft Cover,
German
, Thread Stiching, 246 Pages, 1997
Parkett No. 50 / 51 / 1997
Armleder, Koons, Mylayne, Struth, Williams
availability unknown, if interested please write an email
In Broad Daylight We have chosen to celebrate our fiftieth volume in the most natural of festive illuminations, in "broad daylight," fully aware that these words are associated today with an undercurrent of disturbing implications.
In earlier times the title would have evoked the staid illumination of the Enlightenment or the jubilant luminosity and brilliance of the Baroque. Such thoughts have led us to deviate from our custom of selecting and juxtaposing artists along potential mutual affinities. Instead the five collaboration artists in this double issue of Parkett stand for a variety of contrasting approaches, represented in works that each have a distinctive "lighting plot" of their own. Although Jean-Luc Mylayne has dedicated himself to the phenomena of nature and Thomas Struth to those of civilization, both artists make use of the art of photography to underscore the "stage presence" of light in their images. Mylayne is entirely open to the iridescent manifestations of daylight; Struth restlessly seeks to balance and neutralize the lux fluens of our civilization. The illumination in Sue Williams's painted bedrooms is metaphorical; she fearlessly trains her mental floodlights on the spectacle of the flesh and exposes us, eyes wide open, to the ramifications of her mind. John Armleder has spent decades playfully purging all surplus mysticism from the musty shadow realms of art. His work has become brighter and more transparent as it reaches for the light. Jeff Koons's group Celebration is indeed that: a celebration of high-gloss surfaces and their glistening reflexes. A hyper-realistic universe confronts us in Parkett 50/51 in specific proximity to—or distance from—the aura of representation in the Sun King's century. On unfolding Toba Khedoori's Insert—one of two in this double issue—we face row upon row of empty theater seats, alluding not only to the daytime appearance of the theater but also to the fact that the orchestra seats are called Parkett in German. The emptiness of these seats could be very disturbing, were it not for you, our loyal readers. It is our pleasure to take this opportunity to sing your praises, for we trust you will continue to fill the ranks in performance after performance, in volume after volume of Parkett.
Language: English/German