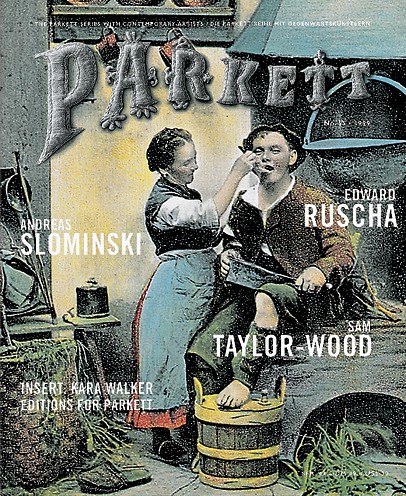 Article Number: 9110
Soft Cover,
German
, Thread Stitching, 260 Pages, 1999
Parkett No. 55 / 1999
Ruscha, Slominski, Taylor-Wood
availability unknown, if interested please write an email
Modern Art—Modern Life Parkett already published an issue eleven years ago with the collaboration of Edward Ruscha.
It now gives us great pleasure to present many of the new works in word and picture, made in the intervening time, and to juxtapose them with two very different, younger artists. Is there common ground among such highly independent, idiosyncratic artists as Edward Ruscha, Sam Taylor-Wood, and Andreas Slominski? As different as their fields of activity and endeavor are, all three share a freedom and confidence in the use of their chosen artistic means as well as an interest in the surprising image whose magnetic attraction exerts an enduring mental impact. One would simply like to cite pictures without subjecting them to interpretation: the boy being fed on the cover and the "traps" (Slominski), the critters that crave salt (Ruscha), and the lasting impression of five revolutionary seconds (Taylor-Wood). It is obvious that, to a certain extent, the mind is here confronted with instinct. In addition, all three artists have a way of establishing an order, a layout of sorts, as a basis for structuring their works to direct our gaze in unmistakably premeditated trajectories. They exercise "the absolute power to direct another person's attention," as Boris Groys remarks in his reflections on "SlominSki". While Ruscha's lettering shifts so much content into the space of the picture that even the most uninviting cliff cannot remain unaffected, the immersion in what might be a moment of hysteria in Taylor-Wood's photographs communicates the same implacability that issues from the terrible and single-minded intent of Slominski's traps. The works of all three artists often act "as if": Sam Taylor-Wood shows us large-format photographed images with predella scenes like the paintings on a medieval altarpiece, while Andreas Slominski's actually operative "traps" resemble the sculpture of arte povera. And Ed Ruscha's paintings have taken to billowing toward the viewer like cheerfully uninhibited sails or animated cartoon bubbles. Kara Walker's "Insert" also toys with pretence. Her world of Biedermeier silhouettes opens wide the fathomless depths of eternally repressed emotion. The spine has been designed by Louise Bourgeois.
Language: English/German