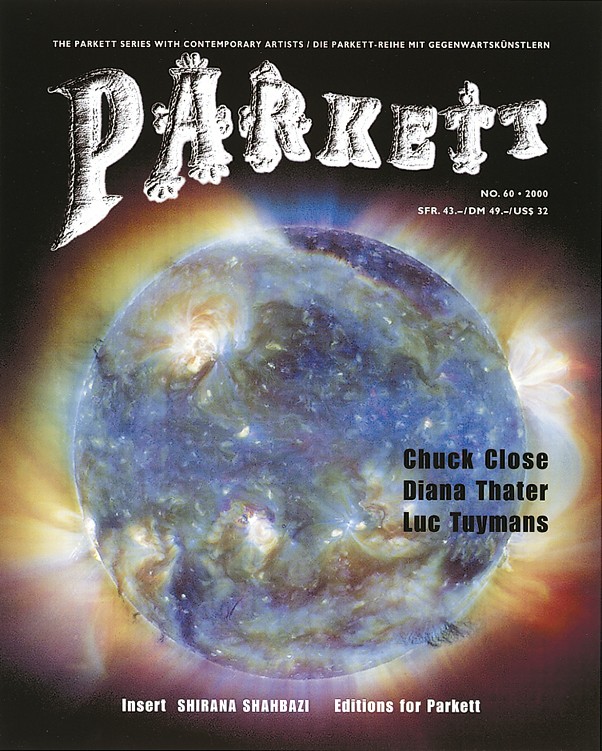 Article Number: 9122
Soft Cover,
German
, Thread Stitching, 268 Pages, 2000
Parkett No. 60 / 2000
Close, Thater, Tuymans
availability unknown, if interested please write an email
When, at the end of the sixties, Chuck Close painted a reclining nude over 20 feet long in minutely detailed verisimilitude as well as faces of unprecedented size and exactitude, he challenged the visual practice of the art-viewing public.
Although breaking out of the confines of convention as many others did at the time, Chuck Close still remained faithful to painting and the classical genres of the nude and portraiture. Stubborn insistence and a very long path traveled in literally the tiniest steps have staked out an exceptionally fertile land, as seen in the present volume. Close confronts the picture as monument with its structural dissolution, its de-composition and its treatment as playful experiment. Photographs have always been the starting point of his painterly excursions and have recently also become the substance of his art through forays into the venerable technique of the daguerreotype (also used in his edition for Parkett).
From one of photography's oldest techniques to its most advanced: The photograph of the sun on our cover comes from SOHO, the Solar and Heliospheric Observatory (a joint project of NASA and ESA). It appears in Diana Thater's work COMPOSITE SUN (2000) and somehow resembles the tiny particles, the "jewels," in Chuck Close's most recent paintings. These particles, in turn, form the colorful "psychedelic" weave that gradually fades on slowly moving away from the picture—in order to allow the observing, groping mind to make room for the arrival and composition of the larger image.Diana Thater's video films and installations take possession of space for their exploration of nature.They target the art viewer's cultural standpoint and consciousness. Since they are silent pictorial events, staged without a soundtrack, they have been associated with the medium of painting and said to impart a beauty of optimistic undertones.In contrast, twilight zones repeatedly encroach upon the work of Luc Tuymans, as he draws the phantoms of knowing out of the depths of historical space.He, too,works with photographs, with existing images, altered in precisely considered painterly processes. The outcome is an edition of Parkett devoted to art that is informed with a spirit of investigation and at times defines painting along the borders of physiological or cultural conditioning.Shirana Shahbazi's INSERT is composed of photographs taken during numerous visits to Iran. She was born in Teheran in 1973 and studied art in Germany and Switzerland. The spine has been designed by Francis Alÿs. Language: English/German