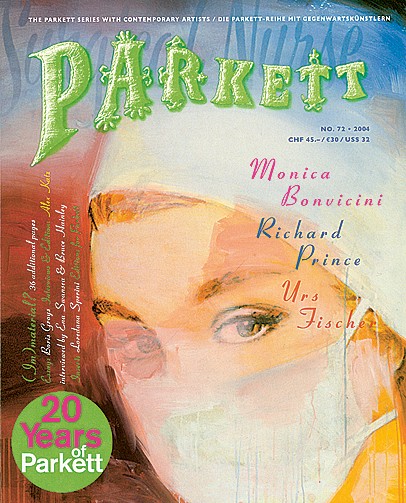 Article Number: 9118
Soft Cover,
German
, Thread Stiching, 244 Pages, 2004
Parkett No. 72 / 2004
Bonvicini / Fischer / Prince
availability unknown, if interested please write an email
It used to be a much-debated topic with a buzzword all its own: individual mythologies. The works of Monica Bonvicini, Alex Katz, Richard Prince, and Urs Fischer unmistakably demonstrate how fluid the exchange between collective and individual, between subculture, elitist culture and mainstream has become.
But these artists also show that myths may be found and artistically enhanced in the most unexpected places. Also in this issue an Insert by Loredana Sperini.

In the last of the three essays on the subject of "(IM)MATERIAL?" commissioned in honor of Parkett's 20-year anniversary, Boris Groys examines just how much the premises of art have changed. He observes that art has undergone a "retechnization" which is both material and work intensive—a development paradoxically sparked by supposedly immaterial computer and video art. Groys is also interested in how the myth of immaterially formed artistic decisions has evolved since Duchamp's readymade.

In stunningly trenchant, folklorically embroidered images, Urs Fischer makes the life of the artist tangible through allusions to his "studio existence." He creates chairs that conjure up the spirit of Bruce Nauman and cast materialized shadows which are as heavy as iron. In his Edition for Parkett, a sculptural rendition of a magician's hand pulling a rabbit out of a top hat, it seems as if far-reaching forces have charmed the myth of artistic creation, discussed by Groys, into material and visual form. The Editions seem to communicate with each other especially well in this issue of Parkett. Richard Prince's photo edition evokes the mythic event that has come to represent an entire epoch: Woodstock. He has appended a short text describing how and why he attended that legendary concert in 1969 with only one exposure in his camera. Now, 35 years later, Prince has decided to print and present this photograph to the readers of Parkett. A personal story is thus superimposed on the myth of Woodstock by an artist who has become part of that very culture which he and his specific generation shaped (impressively described in the essay by his friend Dike Blair).

The Editions of Monica Bonvicini and Alex Katz also make reference to earlier and now iconic works. In DRILL 4 CHASTITY, Monica Bonvicini revives and reinterprets Duchamp's multiple, WEDGE OF CHASTITY (1954), a bronze wedge in dental plastic, which he gave his wife Teeny as a wedding present. Juliane Rebentisch speaks of Monica Bonvicini's "meta-fetishistic objects." But what happens when such an object resonates with one of the ur-fetishes of that great eroticist of the avant-garde? The visual blend of sex and art object acquires an undeniable potency as a refined miniature drill that has laid itself to rest.

Alex Katz's picture of his dog, SUNNY (1971), is one of his best-known works. He has now created a metal cutout onto which the motif has been silkscreened—as if the dog were jumping towards us out of the picture and the depths of time.

Parkett has set itself the goal of analyzing and disseminating art. We are especially pleased, at the end of this extensively celebrated anniversary year, to be able to present such a sharp-witted bouquet of artistic selfreflection.
Language: English/German