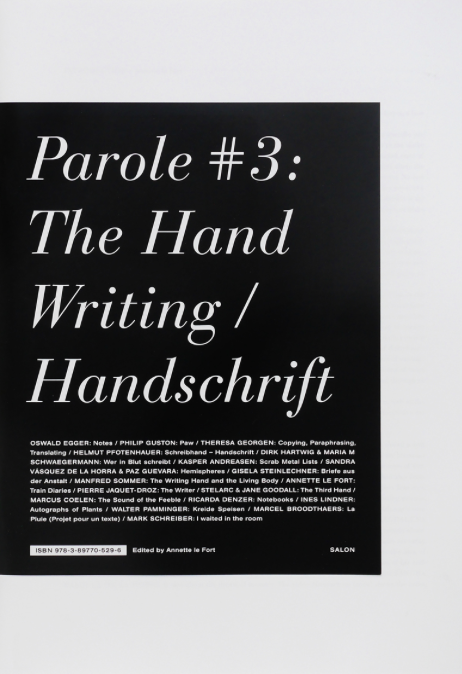 Article Number: 10647
Magazine,
German
, Staple Binding, 116 Pages, 2017, Annette le Fort
Parole #3
The Hand Writing / Handschrift
€ 20.60
Parole #3: The Writing Hand / Handschrift ist die dritte Ausgabe der Schriftenreihe Parole, die sich mit der Materialität und Körperlichkeit von Sprache beschäftigt.
In dieser Ausgabe geht es um den körperlichen Akt des Schreibens, um die Bewegung von Schrift, das Schreiben mit der Hand, der Pfote, der Feder, dem Blatt, um die Visualisierung von Gedanken durch Schrift, die Beziehung von Schreiben und Erinnern, um die Schrift als Spur, als Berührung, als Einritzen, als Verletzung, um das Schreiben mit Tinte, mit Wasser, mit Blut und nicht zuletzt das Überschreiben und Unlesbarmachen von Schrift. Der Band ist eine Sammlung von 18 Arbeiten und Texten internationaler Künstler und Wissenschaftler, die verschiedene Facetten dieses Themas untersuchen.
Mit Beiträgen von Oswald Egger, Theresa Georgen, Philip Guston, Helmut Pfotenhauer, Dirk Hartwig, Maria M Schwaegermann, Kasper Andreasen, Sandra Vásquez De La Horra, Paz Guevara, Gisela Steinlechner, Manfred Sommer, Annette le Fort, Pierre Jaquet-Droz, Stelarc, Jane Goodall, Marcus Coelen, Ricarda Denzer, Ines Lindner, Walter Pamminger, Marcel Broodthaers und Mark Schreiber.
Sprache: Deutsch/Englisch