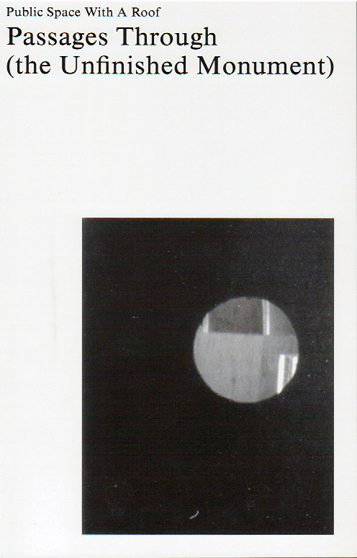 Passages Throught ( the Unfinished Monument)
Public Space With A Roof
€ 13.50
Story about a project for the KIASMA Museum in Helsinki, Finland, that was canceled two weeks before its realization. It was intended to become an installation of three intersecting Moebius strips 'circling' around the gallery, functioning as a platform to exhibit works of other artists.
Finally only a model of this structure was created and photographed with a pinhole camera. On the images, the structure is still visible, but their blurry and foggy atmosphere shows a different universe, closer to the world of dreams and imagination.
The book includes 17 series of photographs, each of them offering a slightly different imaginary walk through the structure, accompanied by fragments of texts by several individuals who inspired the artists while working on the project: Vladimir Odoevsky, Frederick Kiesler, Walter Benjamin, Susan Buck-Morss, Juhani Pallasmaa, Italo Calvino, and Steven Holl. The book also contains a theoretical reflection on the artistic process and experience of cancelling a project.