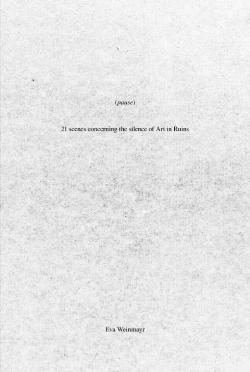 Article Number: 3608
Soft Cover,
English
, Glue Binding, 72 Pages, 2010, Eva Weinmayr
(pause)
21 scenes concerning the silence of Art in Ruins
availability unknown, if interested please write an email
Using actual dialogue from interviewswith art professionals who knew Art in Ruins, Eva Weinmayr constructs a hypothetical play as an anti-documentary or anti-biography.
Why did Art in Ruins, a once prominent art collective, suddenly fall off the art world map? Did they run out of ideas, move on to other territories or simply withdraw in disgust? During brief lulls in their frenetic peregrinations around the glittering international art circuit, a loose group of artists, curators, critics and other art professionals discuss the mysterious disappearance of Art in Ruins, maintaining a sober tone of inquiry even as they encounter herds of bison, anomalous Richard Serra walls and security personnel steeped in art theory.