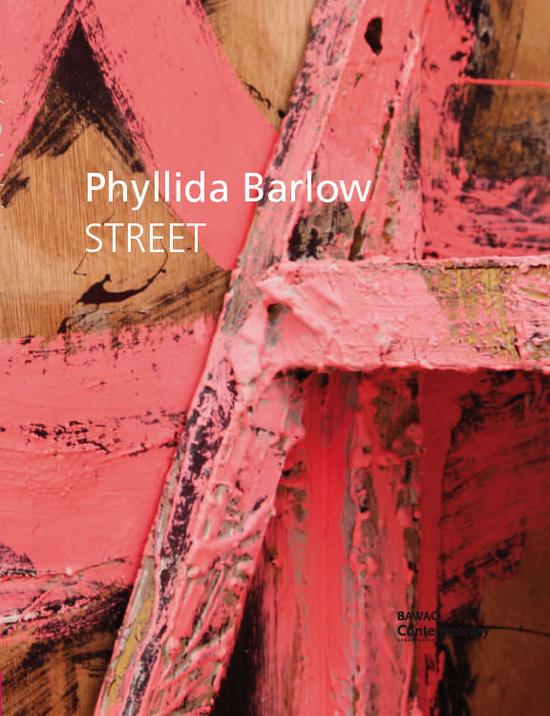 Phyllida Barlow, Street
availability unknown, if interested please write an email
Ausstellungskatalog Pyllida Barlow STREET von 9. Sept. - 21. Nov. 2010, BAWAG Contemporary.
Die für ihre gleichermaßen groben wie unmittelbar zugänglichen Arbeiten bekannte Phyllida Barlow ist eine britische Institution für sich. Sie unterrichtet als erste Frau an der Slade School of Fine Arts und ist Gastprofessorin am Royal College of London.1944 in Newcastle upon Tyne geboren, lehrt sie seit den 1960er-Jahren und hat zahlreiche britische Kolleginnen und Kollegen beeinflusst. Zu ihren ehemaligen Schülern zählen Rachel Whiteread, Steven Pippin, Douglas Gordon, Spartacus Chetwynd, Bill Woodrow, Angela De la Cruz und Eva Rothschild.
In den letzten Jahren haben ihre Arbeiten durch die Veröffentlichung der Monografie Objects For … And Other Things (Black Dog, 2005) und eine Reihe von Einzelausstellungen und Auftragsarbeiten in ganz Großbritannien wie STINT in der Mead Gallery, Warwick (2008), New Sculpture in the Gallery and Grounds, New Art Centre, Roche Court, Salisbury (2007), SCAPE, Spacex, Exeter (2005), und Peninsula, Baltic, Gateshead (2004), einen neuen Grad an Aufmerksamkeit für sich beansprucht. Durch ihre Teilnahme an internationalen Gruppenpräsentationen wie Ausstellungen im Kunstmuseum Basel und in der Bergen Kunsthall 2010, die beide von Silberkuppe, Berlin, kuratiert wurden, und die für den Kunstverein Nürnberg im Jahr 2011 geplante Einzelschau ist Phyllida Barlow auch international zusehends präsenter. Parallel zu BLUFF im Studio Voltaire in London zeigte sie in jüngster Zeit gemeinsam mit Nairy Baghramain im Mai und Juni 2010 eine Ausstellung in der Londoner Serpentine Gallery.
Sprache: Deutsch / Englisch