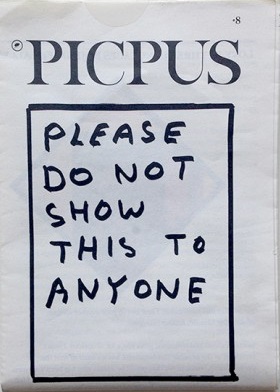 Article Number: 6817
Magazine,
English
, 2 Pages, 2013
Picus #8
Please do not show this to anyone
availability unknown, if interested please write an email
"Please Do Not Show This To Anyone" is the 8th issue of the quaterly magazine Picpus, published by Charles Asprey.
Picpus is a quarterly magazine presenting new writing on art. It carries transmissions from the art world, with a particular interest in historical curiosities, overlooked artists, and arts and politics. It is distributed through a selection of specialized art bookshops, galleries and libraries. The format of Picpus is the broadsheet, a single sheet measuring 60x42 cm, folded to the size of a postcard.
Language: English