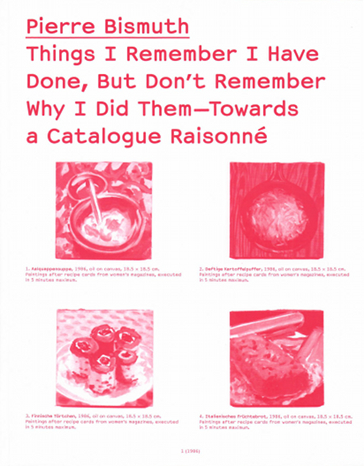 Pierre Bismuth. Things I Remember I Have Done, But Don't Remember Why I Did Them
Towards a Catalogue Raisonné
This publication comprises two volumes: a booklet accompanying Pierre Bismuth's 2015 solo exhibition at Kunsthalle Wien, and a catalogue raisonné indexing his typically serial and often humorous work of the last three decades, from five-minute paintings of recipe cards from women's magazines (1986–87) to fried-chicken-flavored polyethylene sculptures (2015).
Just like the idiosyncratic mix of conceptualism and appropriation refined by Bismuth throughout his career, Things I Remember I Have Done, But Don't Remember Why I Did Them suggests how easily authorship and intentionality can be undermined, even erased—and Bismuth is not exempt from his own treatment.
For his exhibition at Kunsthalle Wien, titled "Der Kurator, der Anwalt und der Psychoanalytiker," Bismuth invited a different set of authorities to interpret and give order to his works: curator Luca Lo Pinto, lawyer Laurent Caretto, and psychoanalyst Angel Enciso y Bergé. Each has contributed a text to the booklet that focuses on a selection of works and themes according to his own interests and training. Dessislava Dimova's essay provides a general overview of Bismuth's artistic project, discussing the importance of plasticity, iconography, and simulacra in his visual economy. This underlying instability and ambivalence is also reflected in the catalogue raisonné itself: following the example of Honoré de Balzac, who revised his writings on printer's proofs, this publication is released in the process of its own making. It is a work in progress—an incomplete history of the artist's practice that should be supplemented by its readers.
Languages: English, German