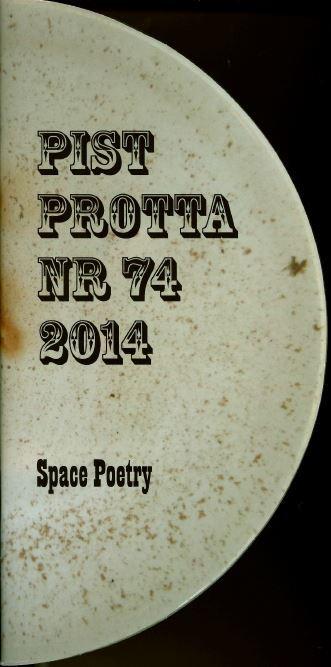 Article Number: 10070
Magazine,
English
, Staple Binding, 48 Pages, 2014
Pist Protta Nr 74 2014
Space Poetry
availability unknown, if interested please write an email
The artists' journal Pist Protta and the circle behind it have always been good at celebrating themselves. In fact, marking their anniversaries has become an important part of the brand – rather like Danish stalwarts such as the Linie 3 comedy trio and supermarket chains Bilka and Netto. In the case of Pist Protta's repeat anniversaries there is, however, a strong mitigating circumstance: like the journal itself, they always come in entirely new formats, versions and editions. Also, the simple fact is that there is truly something to celebrate.
Since 1981 the editors behind Pist Protta, comprising artists Jesper Rasmussen and Jesper Fabricius and graphic designer Åse Eg Jørgensen, have published more than 70 issues of Pist Protta. Besides the incredible dedication of the editors, one of the brilliant survival tricks that explain the longevity of Pist Protta is the fact that they have always invited guest editors and other artists to contribute. This has ensured the journal's constant inconstancy based on Pist Protta's only dictum: that no issue of Pist Protta can be like any other, neither in terms of content nor layout. This has prompted legendary issues of PP such as "the ballpoint pen issue" (No. 29, 1997): a classic A4-format issue guest edited by Tal R where all contributions are drawn in ballpoint ink. Or the weirdly elongated yellow issue (PP no. 57, 2006) that consists of three different books compiled into a single one, juxtaposing three different formats, concepts and authors. Another prominent issue (PP no. 74, 2014) is entirely round, featuring the bottom of a coffee cup on the cover; everything in this journal is inspired by round things, from manhole covers to the poem "Circular Alphabet" by Henning Lundquist. Another typical trait of the journal, apart from its regular collaboration with other artists, is its wry, ironic self-depreciation. This is evident in the anniversary issue (PP no. 60, 2007), where "the editors take stock of the past and ask forgiveness for errors and omissions in past issues". All issues of Pist Protta have been published by the publishing house Space Poetry, run by Jesper Fabricius and Åse Eg Jørgensen. Fabricius is also the man who traverses the city on his bicycle to hand over the most recent publications in person, in real, analogue life, with genuine presence.
Language: English