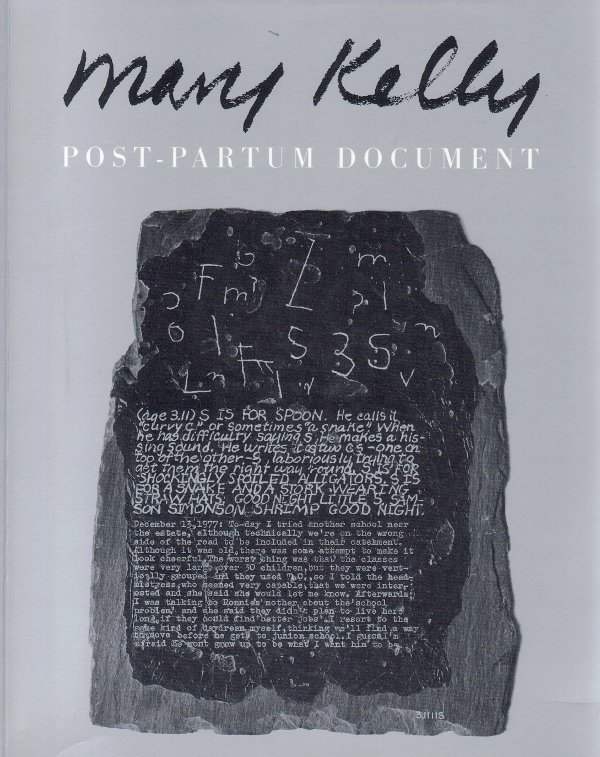 Post-Partum Doucument
Mary Kelly's Post-Partum Document has been widely exhibited and intensely debated since its first scandalous appearance in the 1970s. Now, more than twenty years later, the Document's initial challenge to conceptual art and its impact on the emerging discourse of sexual difference have taken on a new significance.
Mary Kelly's "Post-Partum Document" is a seminal work of the seventies in which the mother-child motif is addressed in a completely new way. Kelly's innovative approach to the representation of feminine sexuality once again generates interest today. The work itself consists of a total of 139 individual parts and has been exhibited in edited versions on numerous occasions.
In "Post-Partum-Document," Kelly uses the conceptualist process of documentation to introduce an interrogation of subject. The "Introduction" and the six following sections deal with the relationship of the working mother with her male child. Issues relating to the emergence of gender difference and the controversial topic of female fetishism are central to the work. Psychoanalysis, in particular its linguistic reformulation by Jacques Lacan, presents an important reference for this work. The discussion of these insights in consciousness raising groups as well as the collective activism of the women's movement in London in the seventies forms the practical backdrop.
Mary Kelly (* 1941, U.S.A.) lived in London between 1968 and the early eighties, then in New York City until 1996, and is presently Professor and Chair of the Art Department at the University of California, Los Angeles. Kelly has always been active in several fields at the same time, as theoretician with a special interest in psychoanalysis and feminism, as an educator, curator, and artist.