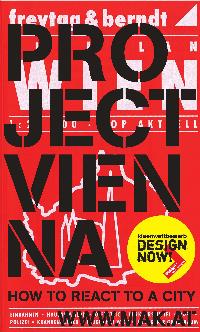 Article Number: 4002
Soft Cover,
German
, Thread Stiching, 256 Pages, 2010
Project Vienna
How to react to a city
€ 18.95
Dieser spezielle Wien-Plan versammelt die Juryauswahl der 20 besten Arbeiten eines von MAK & departure entwickelten Ideenwettbewerbs.
Die ausgewählten Projekte ergeben einen Querschnitt der international und interdisziplinär bearbeiteten Einreichungen, die von subversiv, sozial und ökologisch motivierten Designkonzepten bis hin zu hypothetischen Szenarien reichen (Quelle: departure.at). Allen gemein ist die Auseinandersetzung mit dem (über)mächtigen kulturellen und urbanen Erbe Wiens, das aber nicht als Blockade, sondern als treibende Kraft für neue Impulse verstanden wird. Demzufolge pflanzen sich die Projektideen in diesen Wienführer der besonderen Art, ergänzen dessen Funktion und eröffnen neue Perspektiven auf die Stadt.