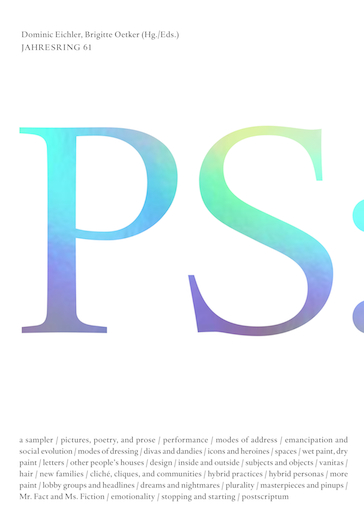 availability unknown, if interested please write an email
The Jahresring series is one of the longest continually published annual journals for contemporary art in Germany.
The 61st edition is a reader and visual sampler with contributions from visual artists, writers, poets, musicians, choreographers, and designers. Bringing together a discursive array of forms and timbres, it takes an intertextual and interdisciplinary approach to exploring some contemporary cultural resonances with respect to gender and sexuality. In this sense, a "PS" or postscript might be understood as a place where relations or realities not explicitly stated in the main body of any given text, but nevertheless underpinning them, are revealed. A "PS" is a place of interpersonal agency; a compelling textual gesture that might add a "by the way" and an "also" and a "you know what we're really talking about." By its nature, a "PS" is contextualized and contextualizing. Though it may parade as the last word, it never is.
Language: English/German