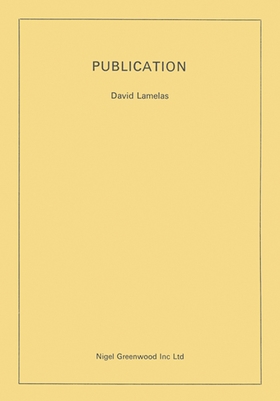 Article Number: 9849
Soft Cover,
English
, Glue Binding, 35 Pages, 1970
Publication
availability unknown, if interested please write an email
Publication functioned as an exhibition in book form. It gathered language-based works by 14 international artists and critics.
Their texts were produced in response to three themes or statements by Lamelas: "Use of oral and written language as an Art Form"; "Language can be considered as an Art Form"; "Language cannot be considered an Art Form." The publication was submitted by Lamelas to the 1970 exhibition In Another Moment, held in Belgrade, Yugoslavia, and organized by Braco and Nena Dimitrijevic.
Language: English