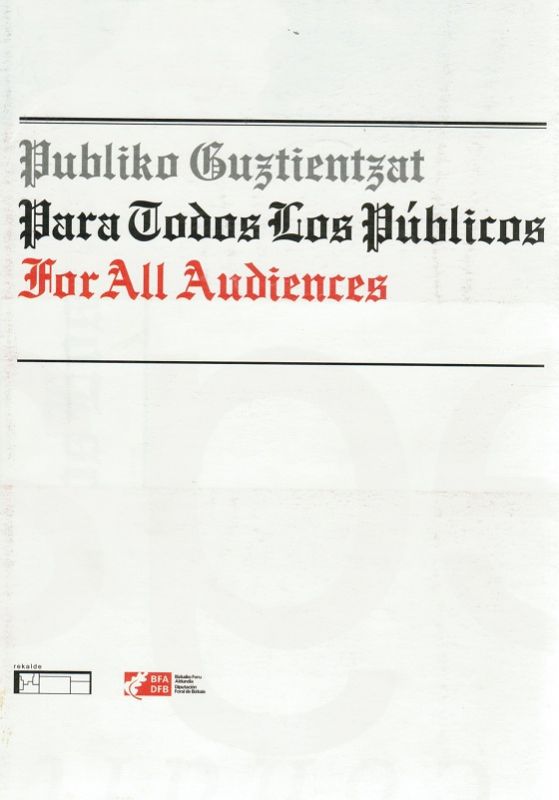 Publiko Guztientzat / Para Todos Los Publicos / For all Audiences
availability unknown, if interested please write an email
In this group exhibition, curated by Xabier Arakistain, 28 artists from the Basque Country, Spain and elsewhere in the world redefine the traditional concept of the public space.
From the very beginning, publicity and the mass media have radically enlarged the idea of the public square, as the complex control mechanisms that regulate them have reached new levels of sophistication.
The exhibition informs of the new critical discourses that have been questioning in recent years the uses and abuses imposed on citizenship by marketing strategies, particularly delving into the revolutionary feminist theorisations of the division between the public and the private spheres.

In the 60s of last century, the International Situationist - probably the most important artistic movement influenced by marxism - developed a series of artistic strategies in order to oppose to the traditions of the 19th century, that used to defend the "innocence" of art. Among those situationist strategies, thedétournement prevails as a way to distort the meaning of different elements that have been gathered in order to reach a completely new meaning.
The works of art showed in this exhibition can be considered as contemporary examples of détournement, as the world of publicity, urbanism, cinema, writing and the mass media are distorted through them.

With contributions by Txomin Badiola, Cecilia Barriga, Anat Ben-David, Bene Bergado, Blami, Daniele Buetti, Minerva Cuevas, Kajsa Dahlberg, Tracey Emin, Chus García-Fraile, Miguel Ángel Gaüeca, Guerrilla Girls, Immo Klink, Jakob Kolding, Chris Korda, Elke Krystufek, Matthieu Laurette, Cristina Lucas, Mateo Maté, Carmen Navarrete, Itziar Okariz, Pripublikarrak, PSJM, Jill Sharpe, Carly Stasko, Zhou Tiehai, Mark Titchner and Li Wei.
Publication on the exhibition at Sala Rekalde, Bilbao (2. 3. - 7. 5. 2006)
All texts in English, Basque, Spanish