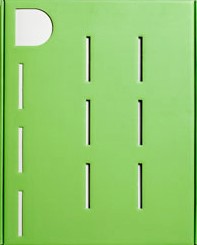 Puzzle Box
€ 22.00
Puzzle Box is based on observations of a group of western lowland gorillas living in a zoo in Germany. Studies in the form of photographs, videos and drawings were conducted over a period of five years.
Contents:
– Booklet containing 17 photographs of a group of western lowland gorillas, photographed between 2004 and 2009
– DVD containing two video studies of the same gorilla group:
'Movement and positions in space', 5:10 min. (2006)
'Entering and leaving the frame', 19:50 min. (2009)
– 'Space/Positions/Movements', a map of the relationship between the gorilla's habitat and the videos and photographs
– Collection of texts by writers from various disciplines in response/relation to the above material
Puzzle Box is modeled after 'Beschäftigungskästen', which were designed specifically for apes as an interactive occupation and recreation tool. The apes are expected to learn how to manipulate grains inside the box by pushing them from one level to the next in order to gain access to the food.
It is a well-established thesis that the production of nature in the zoo involves at least just as much what people call 'cultural objects' as what we might describe as 'natural subjects'. But one can certainly go one step further and argue that by putting animals on the stage the zoo makes them part of its constructed landscape, of its material culture. Zoo animals are both 'natural' individuals and artefacts and can thus be perceived as hybrid objects, as "artificial animals" that are partly natural entities and partly embodied manifestations of cultural ideas and concepts. (excerpt from text by Christina Wessely)

Language: English