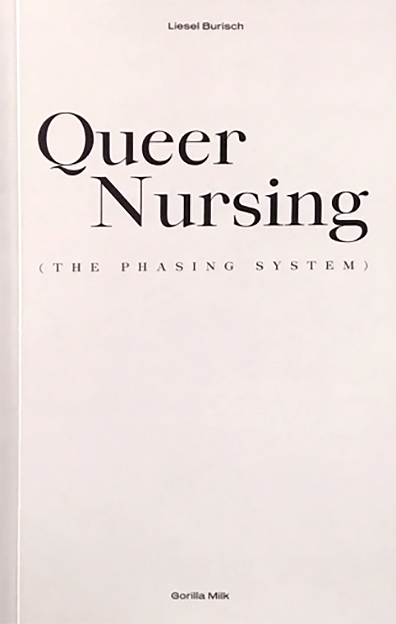 Article Number: 12564
Soft Cover,
English
, Glue Binding, 88 Pages, 2021
Queer Nursing
€ 11.00
Queer Nursing offers an alternative, inclusive way for both performing and supporting nursing. Written as a human manual, it takes the reader through the nursing process from start to finish. Through easy, loving language it supports nursing parents, other parental figure(s) and friends in their journey of emotional and physical milestones as well as offering gentle ways to take care of each other. The manual includes a new way of nursing by introducing the phasing system, which will aid the family in both starting and ending nursing in a calm, caring way. Queer Nursing is Gorilla Milk's first release.
Liesel Burisch is a birth worker/political activist and artist based in Berlin. Their birth work started out supporting families at all stages but has over the years specified into focusing mainly on post partum and pre nursing support. As this delicate time often falls under the societal radar, Liesel supports parents in finding their own way as well as supporting them with the care every family deserves.
Queer Nursing is based on passed down knowledge, years of experience, conversations and support.