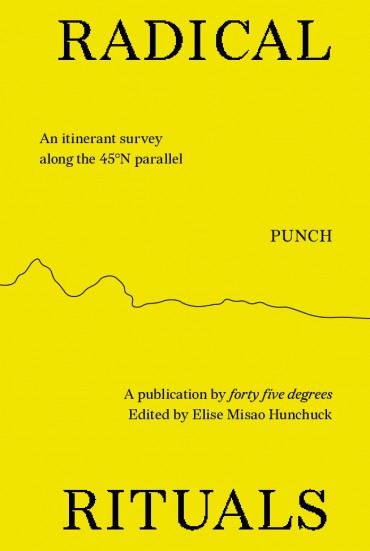 Article Number: 12320
Soft Cover,
English
, Glue Binding, 224 Pages, 2022
RADICAL RITUALS 45°N 20°E – 45°N 31°E
€ 18.00
More just spatial practices are to be found in the diversity and nuances of myriad space-making paradigms that tackle local challenges while providing credible responses to current global issues. In Radical Rituals, we collect spatial protocols following an imaginary line: the 45°N parallel.
This line crosses Europe, from the Atlantic Coast to the Black Sea. The practices are named rituals because they strengthen the potential for collective action in order to reach systemic change. They are labeled radical because they are highly transformative and point toward possible futures. Centered around the themes of Commons, Waters and Identities, Radical Rituals 45°N 20°E – 45°N 31°E covers the first stretch of forty five degrees' research carried across Romania from Timisoara to the Danube Delta.
Protagonists: Alex Axinte (OPEN Garage), Alexandra Trofin (BETA Biennial), Raluca Voinea (The Experimental Research Station on Art and Life), Silvia Moldovan (SEPALE Cultural and Ecological Association), Daria Maria Oancea & George Marinescu (Atelier Ad Hoc Arhitectura), Matei David (Cișmigiu Civic Initiative Group), Loredana Pană (Ecopolis), Silviu Medeșan (Someș Delivery), Marta Popescu (MaiMultVerde), Răzvan Crimschi, Maria Luiza Zamora (Asociația 37), Mihai Danciu (Jiu Valley Engaged Coalition), Mihai Moldovan (Ambulance for Monuments), Anca Gyemant (h.arta), Edith Lázár & Flaviu Rogojan (Aici Acolo Pop-Up Gallery), Tobias Pasăre (Casa Verde).