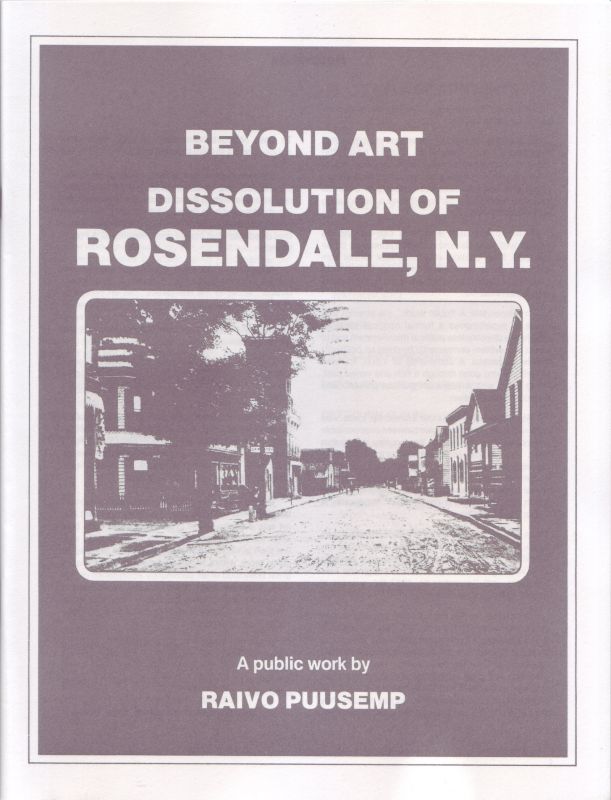 Article Number: 4662
Soft Cover,
English
, Staple Binding, 28 Pages, 2012
Raivo Puusemp. Beyond Art - Dissolution of Rosendale, N.Y.
availability unknown, if interested please write an email
Neuauflage der Publikation von 1980, erscheint anlässlich den Ausstellungen im Project Arts Centre, Dublin, im Grazer Kunstverein und im Utah Museum of Contemporary Art, Salt Lake City.
Als der Künstler Raivo Puusemp 1975 zum Bürgermeister von Rosendale, New York, gewählt wurde, laborierte der Ort an einem erdrückenden Steuerwesen und Problemen mit Gemeindeversorgern. Nach seiner Wahl und während seiner Amtszeit wussten die Einwohner von Rosendale weder, dass Puusemp Konzeptkünstler war, noch von seinem frühen Interesse an Phänomenologie und auch nicht von seinen späteren Experimenten mit Gruppendynamiken und soziopolitischen Prozessen. Puusemp's Zugang zum Amt war jedoch ein künstlerischer. Er glaubte, dass in der Politik Einfluss und Konzept in vereinbarer Form zueinander finden könnten. Indem er konzeptuelle Strategien anwandte, um die Probleme der Ortschaft in Angriff zu nehmen, betrachtete Puusemp die Situation als ein Kunstwerk in Gestalt eines politischen Problems. Er stütze sich auf frühere Arbeiten – die er "influence pieces" ("Einfluss-Stücke") nannte – bei denen der Künstler Subjekte zur unbewussten Ausführung seiner Ideen hin gesteuert hatte. Bis März 1976 hatte Puusemp die Bürger von Rosendale für die Auflösung der Ortsverwaltung als bestmögliche Lösung ihrer Probleme überzeugt; erdrutschartig stimmten zwei Drittel dafür. Im Oktober desselben Jahres trat Puusemp als Bürgermeister zurück, zog sich aus dem Kunstkontext zurück und übersiedelte mit seiner Familie nach Utah. Rosendale, A Public Work war der Versuch, ein formales Konzept über ein mehr oder minder zielloses politisches Mikrosystem zu stülpen und dadurch eine dauerhafte Wirkung auf dieses System zu erzielen. Die Aufzeichnungen dieses Prozesses einschließlich einer Reihe offizieller Briefe, Akten und Zeitungsausschnitte wurden vom Künstler zusammengetragen und später in seiner als die Broschüre Beyond Art – Dissolution of Rosendale, N.Y. veröffentlicht. Reproduzierte Blätter der Originalpublikation sind Teil der Ausstellung.
Language: English