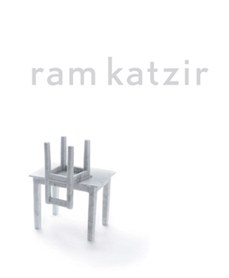 Ram Katzir. Growing Downselected works 1992-2005
availability unknown, if interested please write an email
Ram Katzir (1969, Tel Aviv), currently living and working in Amsterdam, studied at the Rietveld Academie, Amsterdam and The Cooper Union, New York. In 1995 he published 'A Book Called Six', winner of the Sandberg Institute Prize 1995, and in 1998 'Your Coloring Book - a Wandering Installation'.

Since 1999, Katzir has concentrated on public sculpture commissions, experimenting with a wide array of materials. Recent works include Tracing Future in the Herzliya Museum of Contemporary Art (Israel), Amnestree, a monument for Amnesty International in Maarssen, Drawing of Today, a Linesonline project in cooperation with Waag Society, Amsterdam, Soft Spot, a public sculpture in Groningen and Bubble, an interactive installation for the Juliana childrens hospital in the Hague.

Much of Katzir's work is deliberately ambiguous, compelling the viewer to stop, think, and double-take. He works with the precept that we are what we see.