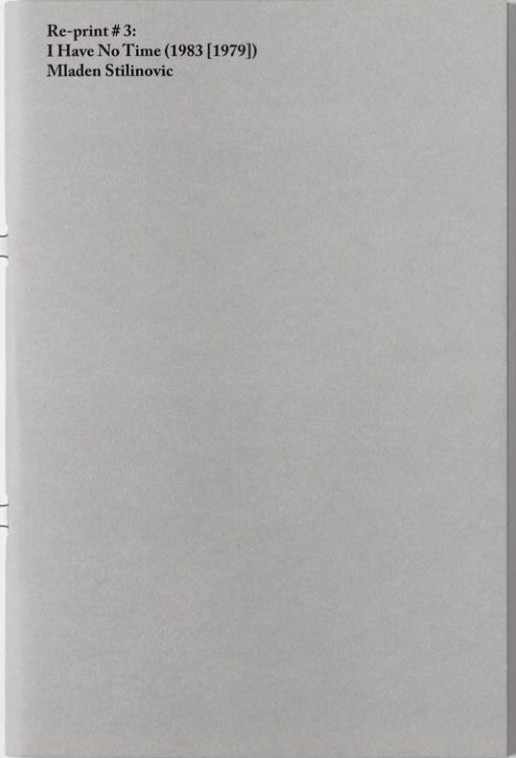 Article Number: 11037
Soft Cover,
English
, Staple Binding, 72 Pages, 2015
Re-print #3
I Have No Time (1983 [1979])
The Re-print project is a curated series that reintroduces out-of-print artist publications to a contemporary audience. The series also exploits the character of the reprints to insert interventions in public archives: introducing material that was never legally deposited, or reinserting previously archived publications in the form of mediated replications, thereby indexing the originals.
The book selected for Re-print #3 is Nemam vremena (1979) [I Have No Time (1979)] (1983) by Mladen Stilinović. The 1983 version was offset printed by Edition Dacic, Tubingen, in an edition of 150 copies. The specific book scanned for this Re-print was loaned from the collection of artist John Nixon.
Nemam vremena (1979) [I Have No Time (1979)] was the first printed version of 'I Have No Time', and was an Artist's Edition, 70 copies. It was offset printed in Zagreb, seven sheets, softcover, stapled, 17.5 x 13.5 cm.
Nemam vremena (1978) [I Have No Time (1978)] was the original version of 'I Have No Time'. It was handwritten by Mladen Stilinović in pencil on paper, nine sheets (four written on), cardboard covers, stapled, 17 x 24 cm.
Sprache: Englisch