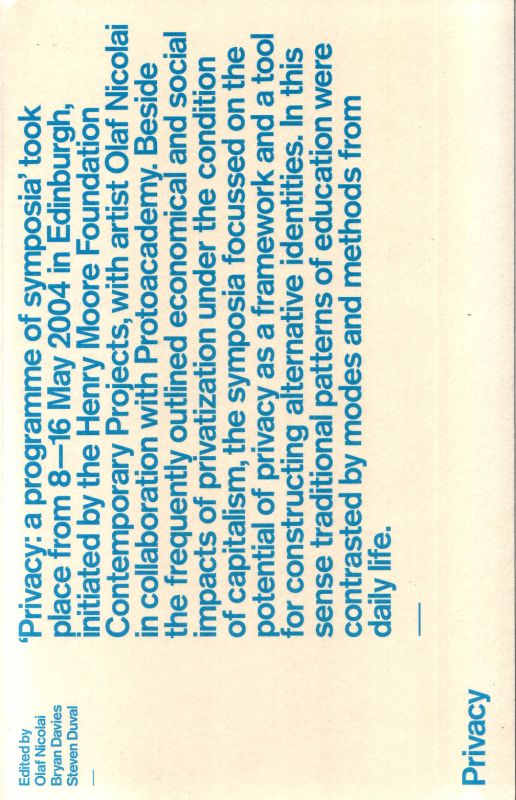 Article Number: 1112
Soft Cover,
English
, Glue Binding, 64 Pages, 2006
Privacy
A Programme of Symposia
€ 15.40
'Privacy: a programme of symposia' took place from 8–16 May 2004 in Edinburgh, initiated by the Henry Moore Foundation Contemporary Projects, with artist Olaf Nicolai in collaboration with Protoacademy.
Beside the frequently outlined economical and social impacts of privatization under the condition of capitalism, the symposia focussed on the potential of privacy as a framework and a tool for constructing alternative identities. In this sense traditional patterns of education were contrasted by modes and methods from daily life.
The idea culminated in 9 days activity creating various public/private spheres, including renting a cinema, radio transmissions, picnics, presentations, walks and talks. Correspondingly the symposia took place in the private sphere of an apartment whilst still in use by its existing tenants. It was open to the public as a meeting point, to browse the library of books, music and films, to just have coffee, to hang out, or to have a chat. Throuh all these activities the symposia recreated privacy itself, as a productive 'refugium' of reflection and enjoyment.
The publication contains in-depth interviews, critical essays and artist project notes.