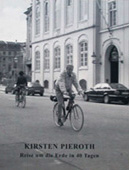 Article Number: 8371
Soft Cover,
German
, Thread Stitching, 48 Pages, 2002
Reise um die Erde in 40 Tagen
availability unknown, if interested please write an email
Exhibition catalogue published in conjunction with the solo exhibition held at Mellemdaekket, Kunsthal Charlottenborg, Copenhagen, 2002.
Kirsten Pieroth zeigt mit dem Vorgehen des Isolierens von Teilstücken, die weder einen bestimmten Anfang noch ein Ende aufweisen, dass diese nicht aus sich selber heraus existieren; sie folgen einem phänomenologischen, einem aus verschiedenen Eindrücken zusammen gesetzten Prinzip. Als Quelle stehen der Künstlerin die vielfältigen Versionen der Welt zur Verfügung.
Sprachen: Deutsch, Englisch