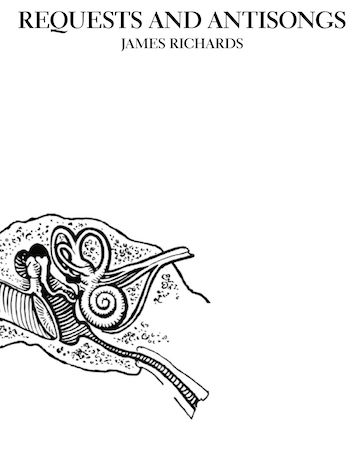 Request and Antisongs
€ 29.90
Requests and Antisongs is an artist's book to accompany a sequence of exhibitions by James Richards held at Bergen Kunsthall, Norway; Institute of Contemporary Arts, London; and the Kestner Gesellschaft, Hanover.
The book contains a series of visual essays by the artist, documentation of recent exhibitions, as well as essays by Dan Fox, Ed Atkins, Steve Reinke, Chris McCormack, and Fatima Hellberg.
In Richards's work, images and sounds are merged into highly affective videos that combine footage from a wide range of sources to form elegant compositions. His recent projects separate these elements out again, allowing space for multichannel audio installations that combine sound in a way that is physical and spatial. The video works convene materials according to the silent rhythms and movements of the footage they contain—footage from newscasts, medical documentaries, and French erotica as well as the institutions' own archives of video documentation—composing a lyrical meditation on the body as a site for the flow of material and sensation.
This book, the most significant publication on Richards's work to date, is an extension of the shows, transposing the strategies of his exhibition making into the rhythm of printed matter. The artist has developed a new series of collages specially for the book, comprising promiscuous relations and dissonant juxtapositions between photographic documentation of the works in the exhibitions, the artist's personal photographs, and found images.
Language: English